Should a beginner affiliate marketer spend money on a tracker? In most verticals, you will have to, because this tool doesn't just collects statistics, from which you can get a dopamine rush when worked on the plus side. The tracker also allows you to distribute traffic between landing pages, conduct split tests, filter from bots, and distribute visits between advertisers. Without these tools, it is extremely difficult to optimize the traffic to the plus.
What to do if you feel sorry for money? Previously, you could only cry and suffer. Today there is AlterCPA Red with a simple free eternal plan for those who are just learning how to generate traffic. There is also enough functionality for more experienced arbitrageurs, but prices are still scattered across the market floor.
What's in the tracker? If a product is cheap, does it mean it doesn't work?
Operating principles and functionality of AlterCPA Red
The tracker was created without the intention of outmaneuvering and destroying competitors. For this, there is a more mature product for large players – AlterCPA Pro. Red – no-frills software. Nevertheless, it has all the necessary functions that could come to the mind of a non-perverted arbitrageur.

The operating principle is built classically – flows. Flows can have one or several ways where traffic can be redirected via a link, opened in an iFrame, go to a local site… There are many options, choose any.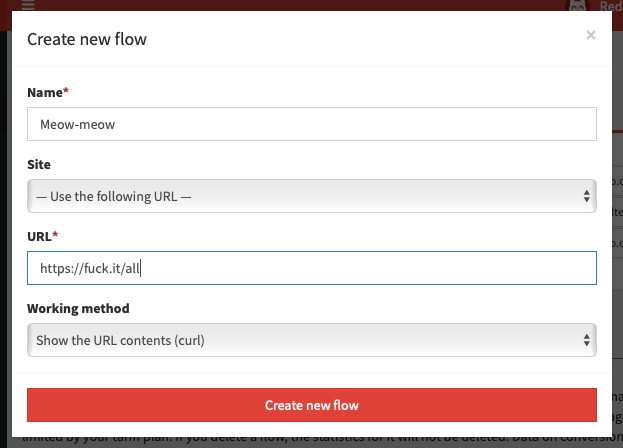 You can configure filtering in ways. Ban by geo, browser headers, language or internal filters:


Smart split test
Distribution of traffic across sites within a flow can also be carried out using several methods. The classic version is uniform. But, if you want to conduct smart split tests and look for a combination while saving money, it is recommended to choose more advanced option.
With a smart split test, the software, using the multi-armed bandits method from game theory, itself determines where it is most profitable to send the user.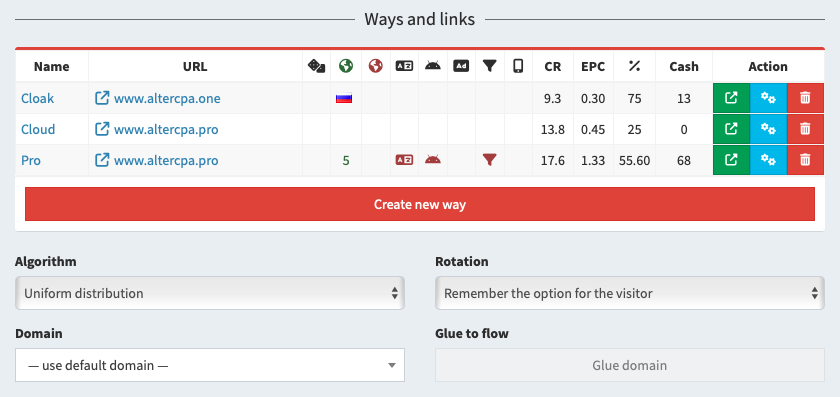 You can choose logic from several options:
Conversion priority;
Priority of conversion and approval;
EPC priority;
Approval priority;
Priority of earnings.
AlterCPA Red analyzes all traffic flow over the last three days and sends the click to where there is a higher chance of achieving the goal (maximum EPC, approval, earnings, etc). Here you can create your own smart link.
Sites storage
The tracker is cloud-based, but despite this, site storage is available, which is already located on your server. Sites can be uploaded as an archive, or they can be downloaded via a link, which is especially convenient when you want to test a bundle from a junction.
It is highly recommended to park your own domains, there is no limit on their number. You can park it in your personal site storage, or you can park it on the AlterCPA Red server. Each site receives its own SSL certificate, which reduces the risk of getting advertising campaigns banned from most traffic sources.
Of course, you can look at summary statistics for sites.
Integrations
The system supports two main conversion tracking methods: server postback and pixels.

An important advantage of AlterCPA Red is the availability of templates for integration with a large number of affiliate networks. The list of affiliate networks with templates is steadily increasing, since ease of integration is one of the company's key priorities.
Statistics
The "Statistics" section has everything for high-quality analytics. Information about clicks and conversions can be filtered by date, geo, device, subID, personal filters and many other ways.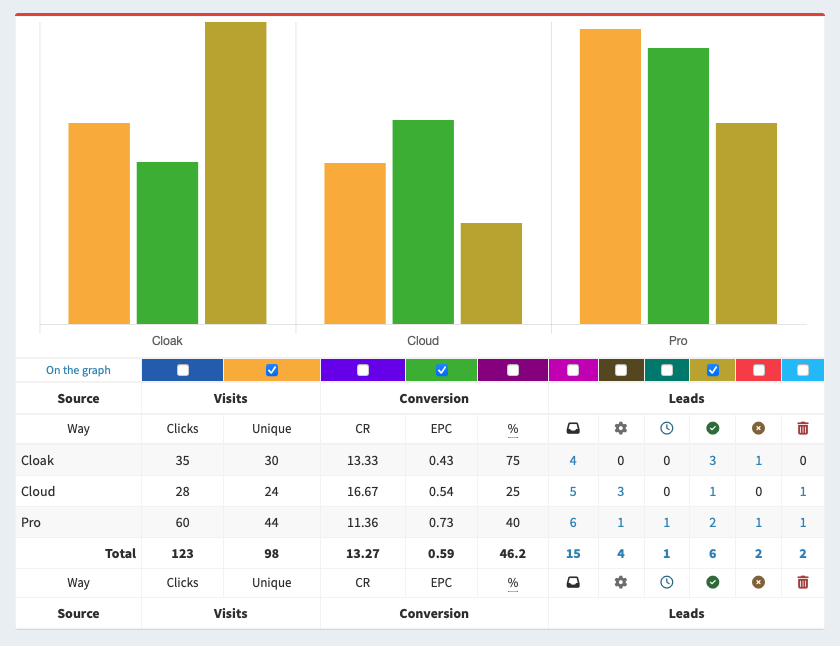 You can also generate a report on user settings in XLS format from statistics.
Teamwork
The size of the team is not limited in any way. There is team lead functionality with the option to view data on buyers. The buyer has access to campaigns open to him without information about the bays of his colleagues.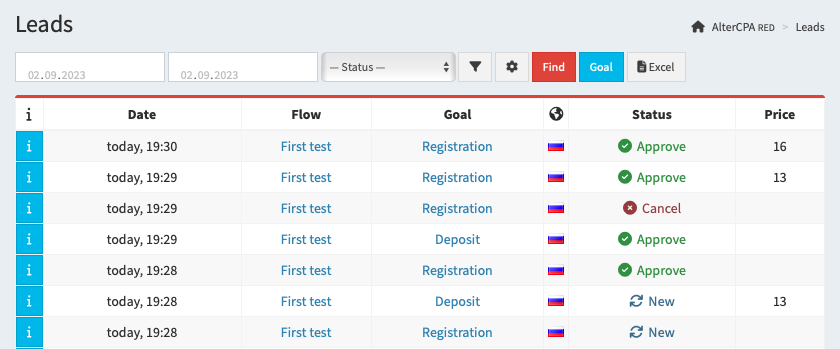 You can generate statistics for each team member, as well as view clicks and leads.
Rates
Absolutely all functionality is available in each tariff. The only limitation is the number of available campaigns.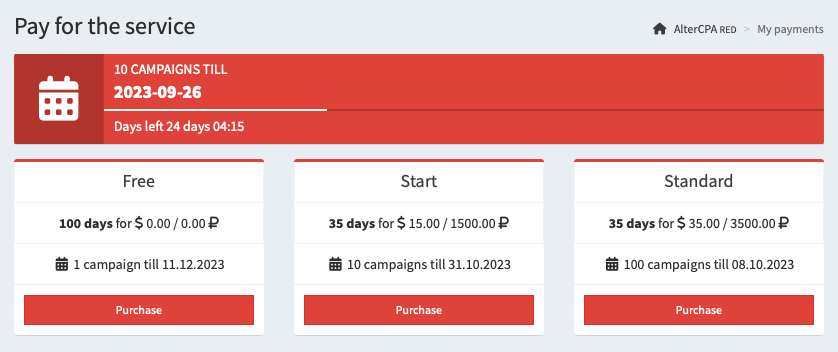 Tariff schedule valid at the start of sales on October 4, 2023:
Secret tariff. 1 campaign for $0 per month;
Start. 10 campaigns for $15 per month;
Standard. 100 campaigns for $35 per month;
Pro. Unlimited for $100 per month.
Conclusion
AlterCPA Red has all the necessary functionality for a tracker. There are even functions that are rare for the market, such as the ability to conduct smart split tests, saving money when registering a bundle.
Detailed statistics, the ability to create smart links and distribute traffic as you please, local site storage, the simplest integration with affiliate networks, stable operation on large volumes of traffic thanks to the continuity of AlterCPA Pro – all these are important functional advantages of AlterCPA Red.
But there is another important factor – low tariffs. A full-featured tracker can now be used for free or, in extreme cases, for the price of going out for burgers.