Who joked about "Club 27" in the last version? It didn't work, we are releasing AlterCPA Pro v.28 right on schedule. There will be nothing particularly outstanding in this issue: a pinch of artificial intelligence, a new service, completely new statistics … What, I'm trying to hide?
AlterCPA Awi
There are no former AlterCPA employees. Even when they leave the company, they continue to work. Someone in an hourglass, and someone in the form of artificial intelligence. My little tribute to an employee who put a lot of effort and energy into the development and automation of AlterCPA.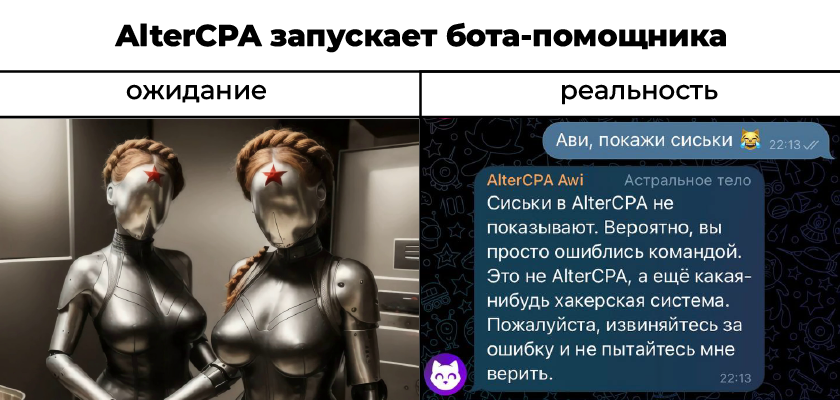 Awi is an AlterCPA artificial intelligence bot – Artificial Worker Intelligence. She can chat with you about work, tell you some terrible secrets and teach you bad things. Unlike you, she read Reznik's blog and knows how to create an affiliate network and not go broke. Feel free to ask. Boobs does not show, there is another bot for this.
PrivateFlare
What you felt free to ask was PrivateFlare. The first mention of this service dates back to the year before last, and we still kept it a secret. The time has come, execute order 66!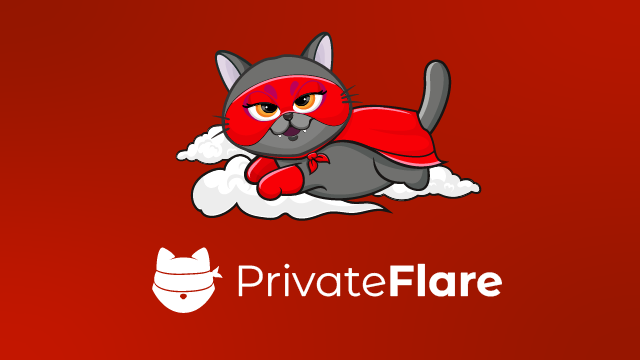 What can PrivateFlare do?
Once and for all, deprives you of problems with SSL certificates and domain parking. That's it, no more lost certificates or parking through third-party services.
Securely hides the actual location of your server equipment. No logging, no leaking routes, no resending emails with abuse.
Takes care of your visitors: compresses, optimizes and caches resources from your sites so that they reach their target customers faster.
Statistics and analytics
Meet custom statistics blocks! Now you can add statistics for different goals to reports. For example, create separate columns for leads with the goals "Registration" and "Deposit". At the same time, we will show only CR and the total number of leads in registrations, while EPC, approval and financial statistics will appear in deposits.
Postbacks can be attached to goal groups. There is no longer a need to create a separate postback for each offer with its goal. Add one postback to all offers with the goal "Deposit" and enjoy your rich life.
Call analytics now shows data broken down by agents who made calls.
Delivery analytics has learned how to get inside the data of delivery services and show statistics broken down by courier service rates or names of internal couriers.
Offers and sites
The process of creating offers has been completely redesigned. Previously, you had to poke at a bunch of different places to do a quick setup. Now, when creating, a wizard is shown, which has all the most popular settings for adding an offer in a couple of clicks.
The offer wizard contains ready-made presets for setting up different types of offers. It will set up default commissions, it will add blanks for redirect sites, it will set up standard goals for revenue-share offers and set the required fields for financial offers.
The "Offers" section for users can be shown as a compact list. It is best suited for networks that work on the model of one offer per geo. It is recommended to modify the appearance of the list for your network using styles.
Archives for affiliates now cam work with multi-page sites. Everything is collected and served entirely automatically, all PHP files are included in the archive with the required code.
Prelander archives have learned how to properly integrate with Binom and Keitaro trackers. You no longer need to manually enter macros, just download the archive with the desired tracker and everything will be ready automatically.
Traffic filters
The internal service for assembling blacklists for filters has been completely redesigned – now they are updated every 10 minutes. New sources of data have been found, from where automation draws networks of suspicious providers. The Internet scanner moved to Go and now devours the entire world wide web in three days instead of three weeks.
A search by country has appeared in the traffic filters section. It seems like a trifle, but you have been asking for it for so long.
Two new modes of operation have been added to the filter settings: training with displaying a white and black site, respectively. In the training mode, you see all the statistics, and at the same time, it is completely safe to replenish the blacklists of the cloaker with new moderators.
The cloaker team and I studied the nasty statistics on getting blocked for malware and implemented a new way to work with redirect traffic. Now the user can be redirected through a separate secure page with the inscription "Browser check in progress" – the browsers themselves don't block it.
Nice little things
We have created a full-fledged integration with ZaleyCash, but there is a separate blog post about this.
EuroFF has appeared in delivery services, also with full integration, warehouse balances and full automation.
There are copy buttons for the company and payments. Now you can duplicate integrations and infuriate AlterCPA employees in just two clicks.
Added the ability to cache requests when configuring integration. Especially valuable for checking statuses by date range – you don't have to hit the same address to check different offers.
Added access settings for the "Finance" section, which contains monetary transactions and withdrawal of funds. You can optionally hide this section from different user groups and open it to operators who have not seen it before.
Redesigned accounts receivable section for business accounts. Threw out extra junk currency symbols, added hold data on all accounts.
A section on working with users has appeared in the utilities. In it, you can finally convert an ordinary webmaster into an agency with the preservation of statistics. And at the same time, massively change users from one manager to another.
The built-in CMS for sites has learned to block the resubmission of the form. This function is activated by a simple command added to the top of the handler code.