Twenty one is a point! We keep our tradition, so, on the fourth day of an even month, the stable version of AlterCPA v.21 is released! We failed to lose our weight by the summer: collected 80 improvements, fixes and new features. In this issue: postbacks, bonuses, domains and too lazy to list it all, read yourself!
Domain confirmation
Advertising networks decided to please everyone with the need to confirm ownership of the domain. Therefore, we added a couple of mechanisms for such confirmation:
Uploading the validation file to the domain root
Adding a meta tag to the advertising page

The first option adds a new "Domain confirmation" section for the affiliate to the Flows menu. Go to the section, click "Add", select a domain, specify the name and content of the file, and everything works. If there is a ready-made file – click "Upload", select a domain and a file, and everything works again.
The second option adds two fields to the flow settings – an arbitrary code for the header and footer of sites. They are placed, respectively, before the closing head and body tags on the site. The affiliate can insert any verification tag there from Facebook, as well as from Metrica, Google or even TikTok.
Bonus program
Are your affiliates so insolent that money is not enough for them? No problem, now you can turn on the bonus program in your network.

The affiliate receives bonus points for confirmed leads and accumulates them in a separate bonus account.
The amount of points can be both fixed and depend on the amount of payment and profit of the affiliate network. For example, you can simply give the affiliate a quarter of the affiliate program's earnings.
The affiliate can spend the accumulated points in the bonus store. In it, administrators place products available for purchase. Some products may be presented in limited quantities.
A purchase request from an affiliate goes to the administrator's personal account. Request processing and the issuance of the bonus is done manually. After approval of the request you can show a hidden block on the product page, for example, with instructions for receiving.
One postback is never enough
Once, AlterCPA allowed an affiliate to set just one postback, globally or inside the flow. It seemed to us that this was not enough, so we added additional postbacks.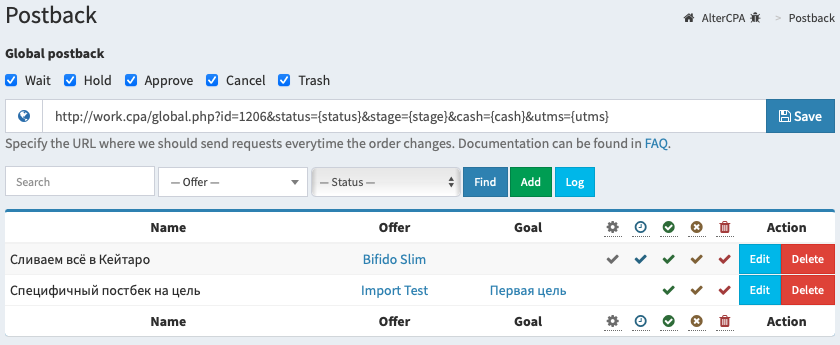 What are their advantages:
They are always global, but they can be linked to a specific status, offer, and even its goal. This makes it easy to create postbacks for registration and deposit.
Their number is not limited. You can create multiple postbacks that will fire at the same time. For example, inform your tracker about the arrival of a lead and send a notification to the Telegram.
Of course, there were some drawbacks:
One postback can only be linked to one offer or goal. If identical postbacks are required for different offers, you will have to add each one separately.
Postback is always sent when a lead moves to the selected status. If an identical postback is set for different statuses, which does not change in any way, it will be sent anyway – it has no protection against double sending.
Offers import and export
The mechanism for copying offers within the network and between networks appeared in AlterCPA five years ago and has remained practically unchanged since then. We rebuilt it from scratch, significantly expanding its functionality.

Added work with goals. They are transferred to a new offer with all parameters.
Improved work with payments. Linked them to goals. You can update them both jointly and separately – the links will not be broken.
Split site import into types. You can automatically replace sites of the selected type, or add imported sites to existing ones.
Site path autocorrect is smarter and uses our site naming guidelines.
Promotional materials for the offer are uploaded automatically along with their files.
Traffic sources, technical capabilities and all useful checkboxes are also loaded automatically.
Arbitrator teams
Arbitrator teams are coming out of the shadows. From now on, this is not a secret section for grouping statistics, but a full-featured tool for teamwork.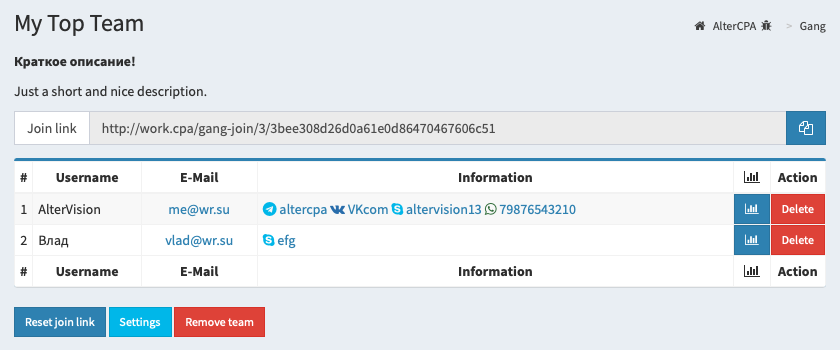 Any affiliate can create their own arbitration team. Of course, this option is disabled by default, but you can enable it in the advanced settings.
The head of the arbitration team can manage its members independently. On the one hand, it now has a list of participants with a delete button. On the other hand, he received a magic join link with which anyone on the network can join the arbitration team.
The leader can turn on the main page for all team members, add a welcome word and teamwork rules to it, show the list and contacts of the participants.
Personal and team black lists
Working with black lists in the traffic filtering system has got three useful features.

Among the blacklists, you can select the ones used by default. When no specific blacklists are selected in the filter site settings, the ones marked with the "Default" checkbox will be used. This way you can create a basic set of filters that are useful to everyone, and add filters that are useful only for special cases.
Setting up blacklists is no longer a prerogative of administrators. Any user can create their own blacklists to filter traffic. They will be available, of course, only to the author.
Since we now have full-featured teamwork, we have added team blacklists. Either the team lead or the entire team can have access to their settings. Any member of the team can use them.
In addition, we have improved the filtering mechanisms themselves, adding two useful features: language analysis and trash visits.
By checking the visitor's language, you can block users who are most likely using resident proxies of a foreign country, but at the same time do not change the browser language.
Trash visits allow you to discard the first visitors to pass your filter. It is useful if you know for sure that after the link is published, several bots are guaranteed to visit the site.
Statistics for affiliate
Suddenly it was discovered that we had forgotten to make a report on traffic sources. We are correcting ourselves. The report appeared both as a separate section and as an item in the click analytics hierarchy. Traffic sources are a specific tool and are rarely used in networks, so the report is not active by default. Don't forget to enable it in advanced settings.

Last year we released an API for loading ad spend. Six months later, we added the ability to transmit the cost of a click directly in the flow link. This time we are adding a completely manual mode of operation – a form for loading click costs. It completely duplicates the work of the API right in the affiliate's personal account.
Symbol code of the flow
In addition to the identifier, the stream also has a symbol code. At first glance, it sounds completely incomprehensible, but very interesting.

You've probably already come across stream symbol codes when setting up ad campaigns for Facebook apps. The incomprehensible characters that you set in the name of the advertising campaign – this is it.
Along with the symbol code, interesting possibilities for its use appeared:
Using the symbolic code, you can work with postbacks that create leads for "external" offers. When working with applications, you cannot generate a click ID for each install, and the stream code is easily extracted from the name of an ad campaign or metric.
If you have a unique conversion ID, you can both create leads and also move them into status. This allows you to implement a full tracking cycle within any application.
By the symbolic code of the stream, you can get the stream itself and its link. This is useful for applications with a built-in cloak. Is there a symbol code? Received a stream, fetched a link, showed it in a WebView. No code? Showed a dummy app.
Briefly about the remaining dozens of improvements
Have a bunch of nice little things:
Fresh news counter has appeared. We note when the user last opened the news feed and show how much news has appeared since then. Similar counters have been added for requests for payments and technical support.
Improved parked domains check automation. Domains with errors in IPv6 will no longer go through. Problematic domains will also stop clogging the system and will be deleted automatically.
Reworked downloading of ready-made landing pages from flow page. Added the ability to download a ready-made landing for the desired country with the indication of the corresponding price tags. Also, pixels appeared, both on the sites themselves and on the "Thank you" page.
Added geo-blocking. In the offer settings, you can block any leads from unsupported countries. They can be silently discarded or a notification can be shown to buyers.
Incoming leads can be approved automatically. Convenient for SOI offers. Automatic confirmation can be enabled bot fir the offer and its specific goal.
Threw Disqus in the trash and switched to Commento in the comments for the news. It's easier to install, there are no ads, there are no brakes, there is an entrance directly from within the network. Lovely!
Documentation from the AlterCPA Pro personal account is now available for administrators right on the network.
We can re-send postbacks. A resend button has been added to the postback request log. It will come in handy if your tracker lies down to rest at the most interesting place. By the way, why a tracker if you already have AlterCPA?
Admins got a session audit tool. If it seems to you that the web has stamped virtuals and is trying to trick you – check its visit log from the "People" section.
Traffbacks appeared in TDS, redirection sites and split tests settings.
TDS learned how to analyze the activity and availability of offers for affiliates. The procedure is not the easiest, but it makes smartlinks even smarter.
Agencies received a link generation tool for offers. It is somewhat similar to the flows that affiliates use. Combined with new postbacks, it simplifies the procedure for reselling offers without API.
Future plans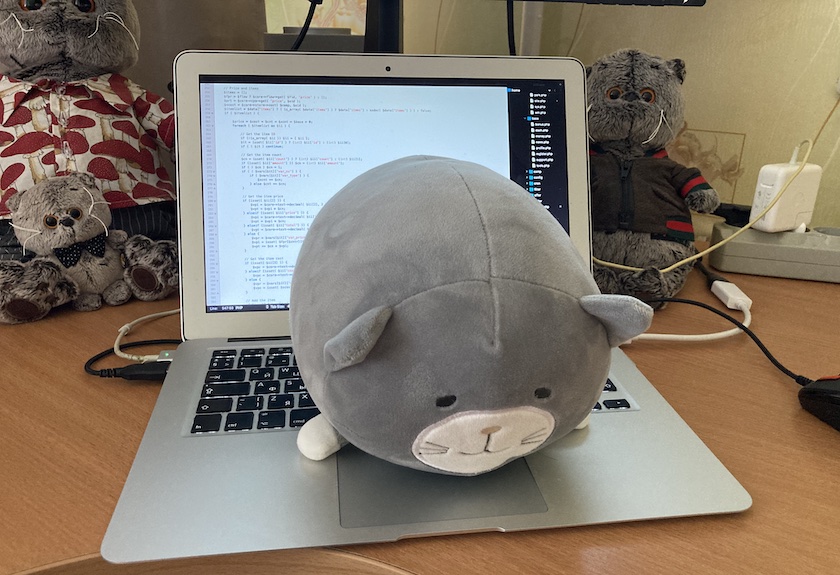 We decided to slightly slow down with adding new features to AlterCPA. Instead of it we are going to come to grips with the documentation. Usually we carry a couple of dozen tasks per version, and this time four times more! Accidentally, we have implemented almost all of the refinements that we planned. We should save something for later. Otherwise, there will be nothing to develop. So, the release of new version is scheduled for September 13.