Spy services are the pain and hatred of modern arbitrage. The All-Seeing Eye is an indispensable tool for both novice webmasters and experienced gurus. Today I will tell you about AdHeart – a spy service designed for advertising products of the extremist organization Meta banned in the Russian Federation.
AdHeart – why and how?
You really need the explanation why spy services are needed? Are you serious? Any arbitrator, even the greenest junior, knows the answer: to analyze the creatives of other affiliates and develop their own approaches and combinations. And to be frank: steal the creative, drive it through the uniqueizer, pull off the site and calmly start your own ad campaigns.
Media buying is a cruel business, no place for little pussies here!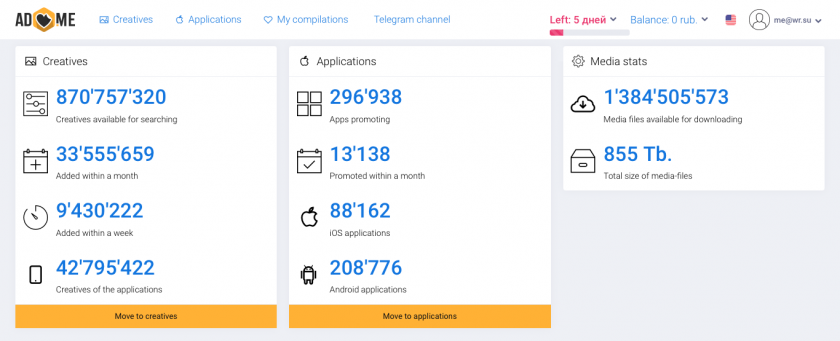 The mechanism of the service is extremely simple: eat all the ads that appear on Facebook products, pull together photos and videos, memorize texts and links. They put everything in a huge database and fasten a convenient search to it. At the time of this writing, the number of creatives dreamed of reaching a billion, there were under three hundred thousand applications.
Working with creatives
The basis of the service is search. Open adheart.me, go to the "Creatives" section and look at the form.

The most important search parameters:
Search in creative text and title. Useful for searching for a specific offer by keywords or title.
Search by geo and language. It is best to search by a specific country for a product offer, or by a specific language for offers without being tied to a specific location.
Content type. Photo, video or both of them.
Launch time and active days. It makes no sense to look for junk, let's find something fresh.
Some interesting and useful in specific cases:
Search by URL. You can dig up a specific domain of the affiliate network, pull out all the creatives on the affiliate by his own UTM tag.
Domain IP. It will allow you to dig out all the domains parked to any server, and practically get the entire publications of a small team.
Publishing platform. Facebook and Instagram are the most popular as usual. The rest can be neglected.
Application platform. People say iOS creatives are better because they invest more in them.
FB fan page. Allows you to find all creatives from a specific fan page. The most convenient way is not to enter manually, but to click on the appropriate button above the creative you like.
Application. Useful for gembling and betting, allows you to immediately find creatives used in a specific app.
Looks completely useless:
Domain zone. Someone thinks that there are especially popular domain zones. In reality, the zone of special influence does not have and there is no point in limiting yourself.
Format, button type and lead form. They won't bring much sense, only add unnecessary restrictions.
For example, let's take a look at who works with the Visulan offer in Poland. To do this, use the keyword "visulan" in the search throughout the text, specify the geo "Poland" and launch up to 15 days. We get a pack of ready-made creatives, some of which still lead directly to the sites storage of ProfitPay network.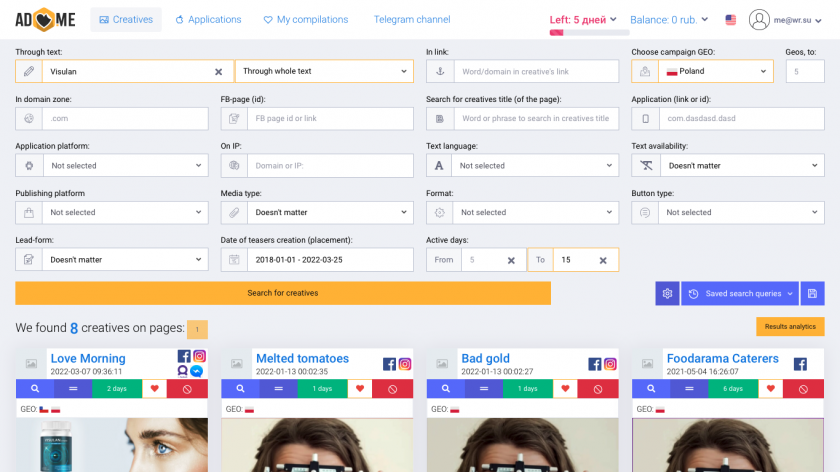 The next step is simple. Take a creative, take a link, take a text, brush it up a bit and upload it. It's not for me to teach you how to work with traffic, you can do just fine without me.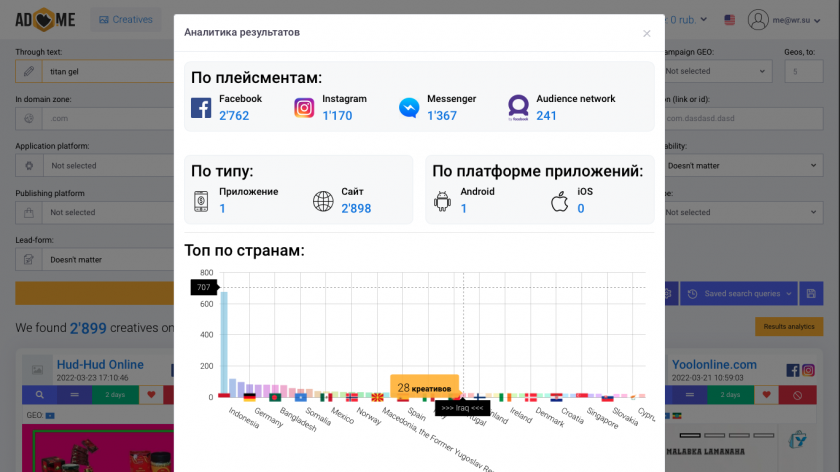 An interesting tool is results analytics. To begin with, we search only by the name of the offer. Further, and with the help of analytics, we can evaluate where it is poured from most of all, which countries are the most popular and through which sites it is poured.
Working with applications
Here everyone who works with gambling and betting was delighted. The service allows you to search for creatives by the applications they are uploaded through. We go to the "Applications" section and enjoy.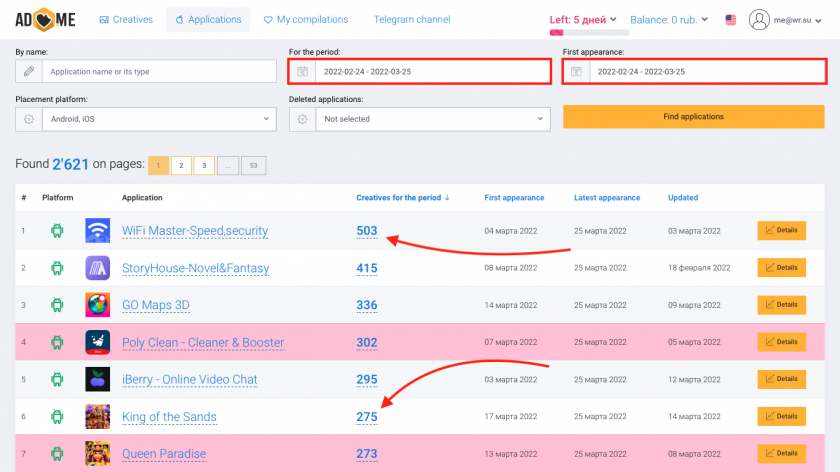 A small life hack: in order to hide some kind of Tik-Tok in the list of applications, you need to filter it correctly. The simplest option: select the last month in the "For the period" and "First appearance" blocks.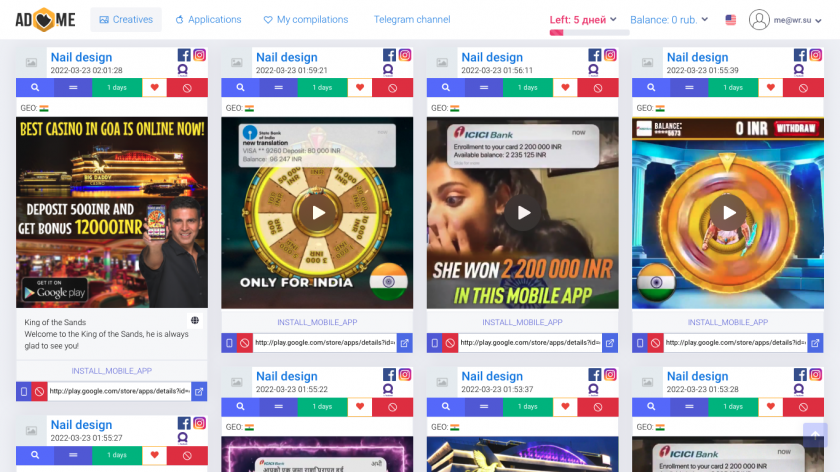 A trifle, but pleasant. We click on the number in the "Creatives for the period" column and get a ready list of gambling creatives that were uploaded to this application.
How can I protect from spy service
You can't.
Yes, seriously, you really can't do it. Would you like to get a magic pill here? It is not and cannot be. Remember the most important rule: if some materials can be seen by the target visitor, they will be available for the spy service. Creatives – no options, they lie on the side of advertising networks. You can still try to fight for your target sites, but the results are doubtful.
You can use a high-quality traffic filter with proper settings, such as AlterCPA One. It will cut off any server proxies that spy is using. But their bots will easily come in from mobile or residential, because these proxies appear to be ordinary client devices.
Filtering bots by User Agent? Do not make me laugh! Spy services are clearly made by someone else but clinical idiots. They will use a realistic user agent of some of the most common Chrome or iPhone.
JS checks? Captcha? Site activity? Congratulations, you have killed some real traffic. And they still opened everything through Headless Chrome and looked.
Can't fight? Lead!
Let's be honest and frank with ourselves. We have lost the battle with the SPY industry. Now the only thing we can do is work quickly, use smart targeting, cut costs wisely, use only reliable advertisers. All good creatives will be definitely stolen from you, this is a fact.
Therefore, we act as wisely as possible: register on AdHeart ourselves and intercept creatives first! Sweeten the pill: promo code AlterCPA30 will give you a nice discount for three days. Got late? Don't worry, AlterCPA promo will work forever!